Journal of Activities
October 11th, 10:00AM (Igor)
First, dear readers, some sad news: our trip is over. It's been an amazing three weeks on the river, but we have decided not to tackle the Mississippi aboard the Fallacy. Let me quickly explain what happened - we will fill in the gaps over the next few weeks.
On October 9th, we were inspected by the US Coast Guard Upper Mississippi River, St. Louis sector. Officer Perkins, an inspector very simular in function to Mr. Brady of the Chicago MSU came aboard, showed us pictures of previously failed raft trips like the Rockaway Armada and the Circle of Death guy from the Harpers article, and conveyed a few concerns we were not aware of before. For instance, the Circle of Death hit a parked barge, and the current pushed one side of the raft under the barge while lifting the other side up into the air so that eventually the entire thing flipped over. We had previously been under the impression that hitting a parked barge would not be particularly catastrophic, and we were pretty sure that our low center of gravity would keep us from flipping, but ofcourse, being unable to motor upstream, we would have a hard time getting out of such a conundrum.
After asking us to perform some impossible for us tasks, Mr. Perkins got a Captain of Port order issued which barred us from operating on the Mississippi and failed to tell us how we could be unbarred. We got a few verbal instructions from Mr. Perkins which we didn't think we could meet (like being able to go 7 knots, whereas our previous top speed was 3).
After fighting our way up the Coast Guard chain of command and recieving additional brush-offs, we finally reached the Leutenant Commander of Port Cunningham, who is the deputy commander while the actual commander is away on business. He was very reasonable, gave us actual answers instead of brush-offs to the tune of "it's a whole different ball game", and eventually told us that as long as we strengthened our transom and improved the lashings between our two sections, we would be allowed to continue.
On the night of the 9th, we finally attempted to get in touch with the Floating Neutrinos, who were the major inspiration for our trip. ( http://www.floatingneutrinos.com/ ). After we spoke to Cunningham, we recieved a call from Captain Betsy of the Floating Neutrinos, who was on the Atlantic crossing raft as well as the Vilma B., the model raft for the Fallacy ( http://www.floatingneutrinos.com/Vilma%20B/vilma_b.htm ). We had hoped that the Floating Neutrinos would vet our design and tell us that we were alright to continue. Instead, Capt. Betsy told us that the coast guard is correct - the current, besides inexorably pushing us downriver, causes rips, eddies, and whirlpools which would spin us out of control and we did not have enough power to get back under control in a tight situation. She very strongly advised us not to continue the trip.
We were prepared to disregard the advice of the coast guard because (sorry, coast guard) they do not know much about rafting. They were concerned about our freeboard when rafts have no freeboard, they didn't think we could have any steering while slower than the current (untrue), and they thought a bigger engine would make us go faster (very doubtful, as we were hitting our hull speed). However, the Floating Neutrinos know what they're doing, and we took the advice of Capt. Betsy very seriously.
After many hours of deliberation, we decided to stop the trip short for now. We may attempt it again in the future, fixing the problems Betsy pointed out in our current design - we will discuss these problems here in depth, soon.
In the meantime, Steven has returned to Chicago to work on his Grocery store (http://openproduce.org/ ), and Katherine and I have continued on to St. Louis. We plan to spend the next few weeks travelling the country overland before ending up in New Orleans via train in November.
The Fallacy was towed a few miles up the Mississippi by a friendly Grafton local named Bill, who is interested in using her to build duck blinds. We have seen many of these little houses on our trip, and even tied off to one of them once, and we are glad that the raft will continue to be of use.
Thank you all for your interest in us - we have made many friends along the way, and we could not have come this far without your help.
A major goal of this trip was to learn about the river and rafting and to document our knowledge for future raft builders. We will continue updating the site with what we have learned once we have completed our travels.
October 10th? (unknown)
Try Here for water flow data
http://www.crh.noaa.gov/ahps2/index.php?wfo=lsx&view=1,1,1,1,1,1,1,1&toggles=10,7,8,2,9,15,6
OR
http://waterdata.usgs.gov/il/nwis/current/?type=flow
--update: (Dean) thanks, but I am looking for velocity, not the total flow or height. If we knew the cross-section of the river, we could determine the speed, but not with this data.
October 9th, 3:30PM (Dean)
Steven reports they are still in Grafton. The new Coast Guard inspector was not happy with the raft and demanded they not continue down the river unless they could motor at 7mph. After much discussion, they agreed to strengthen the raft, especially the transom, and take a road trip down to St. Louis to take a look at the Mississippi River downtown. It narrows and speeds up there and it is one of the busiest inland ports in the United States, with much barge traffic (just take a look at Google Maps satellite image and you'll see what I mean). I am looking for current velocity reports (if you know of a place that reports the speed of the current on rivers, please let me know) to give them some idea of the difficulty in St. Louis and if they choose to take the Tennessee-Tom Bigbee route, what the current they would work against on the short 40-mile span upstream on the Ohio River.
October 7th, 7:30PM (Steven)
As Dean has dutifully reported (thanks, Dean, for keeping the world updated), we have arrived in Grafton, and are in a marina at Illinois River Mile 0.7 (we started at 336). Just past the corner of Island #526, we can see the flowing waters of the Mississippi.
This morning was very wet; when we woke up it was raining, and an entire forest of dead trees had accumulated against our bow, brought there by the current overnight. We got underway around 8am under a drizzle which waxed and waned throughout the day. At one point, fog and rain meant visibility was reduced to about one mile, and we took to announcing our position by radio at regular intervals. Luckily, everything moves pretty slowly on the river: if we are heading downstream at 4 mph and passing a barge heading upstream at 4 mph, even if we only see each other at a distance of one mile, we have 7.5 minutes to figure out who is passing on which side ("one whistle", which means port-to-port (like driving in America), or "two whistles", which means starboard-to-starboard (like driving in England)).
Here in Grafton, we have met up with several other boaters we've seen once or twice on the river. Many of them are doing "the loop" ( http://en.wikipedia.org/wiki/Great_loop ), a popular boating trip that takes about a year. It's been nice to see familiar faces and hear familiar voices on the radio from time to time.
Tomorrow we are going to be payed a visit by the St. Louis sector of the Coast Guard, and then will set off on to the Mississippi, hopefully reaching St. Louis by Thursday.
More info on the "log and debris" problem described by Dean below: after clearing the debris from the front of our raft and motoring for about an hour, we noticed that our propeller was cavitating (sucking air down from the surface, instead of pushing water) pretty frequently. Eventually we took up some floor boards and removed a 4-foot log and several pounds of smaller stuff from under the rear section of the raft -- after that, things were back to normal.
Some pictures: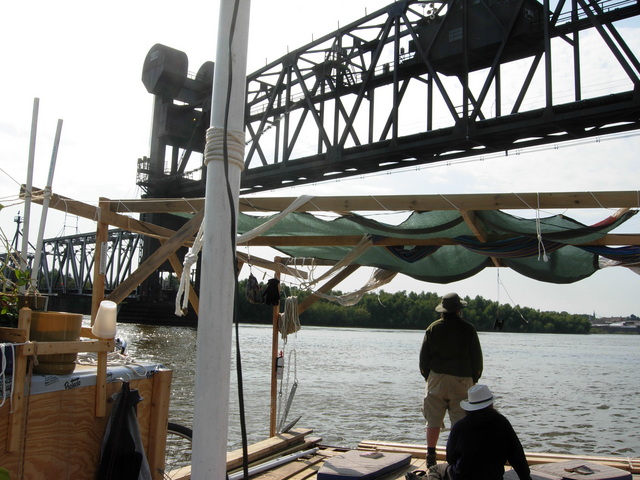 The BNSF railroad bridge lifting for us.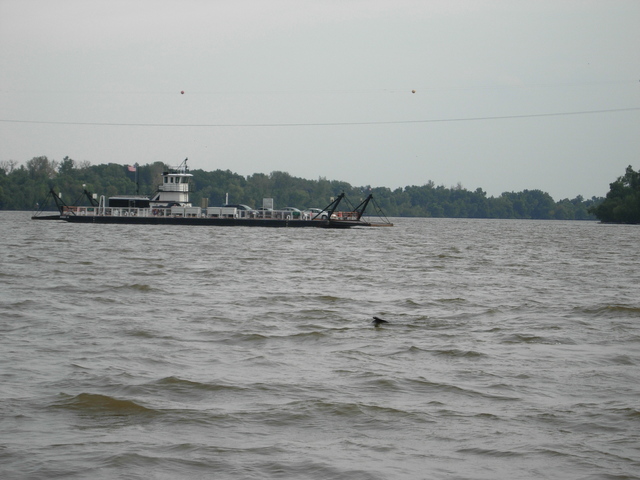 Some roads are carried across the river by ferry instead of by bridge.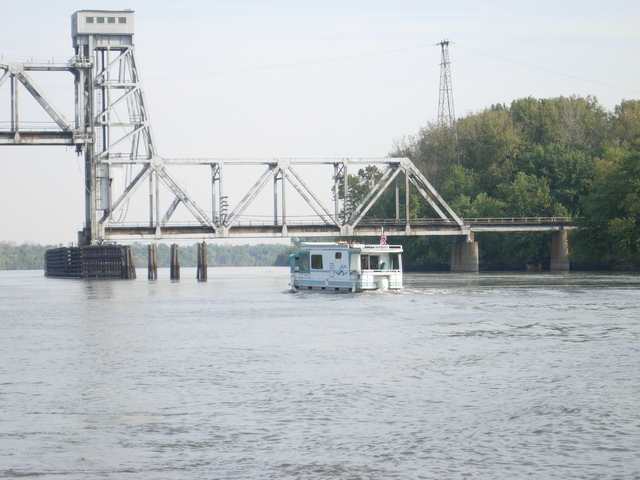 Some other people on the river also have weird boats. This appears to be an RV on pontoons.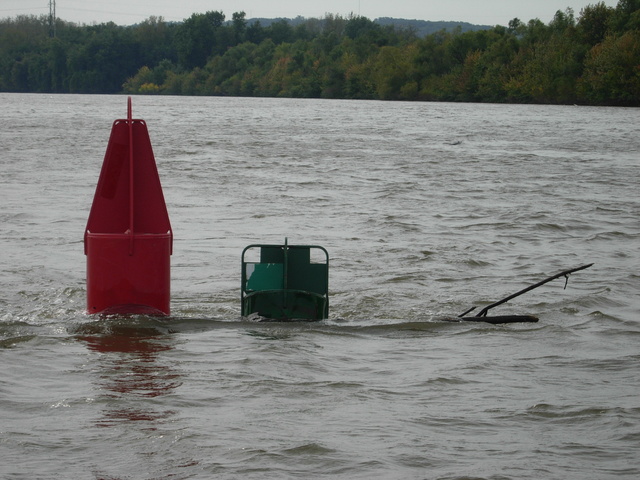 The navigation channel is marked by nuns (red buoys) on the left descending side and cans (green buoys) on the right descending side. Sometimes floods displace these navigation aids, as seen here.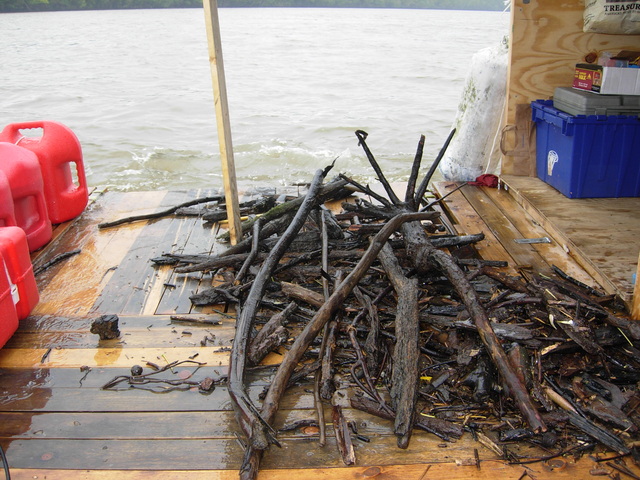 This is the debris we removed from under our raft to fix the cavitation problem. We only cleared out the back quarter of the raft, not the whole thing. An even larger log (8 feet long, one foot across) was lodged under our bow when we woke up this morning (we felt it hit in the night).
October 7th, 2:25PM
They have reached Grafton, where the Illinois meets the Mississippi. As for the past week they have been riding the massive flood waters coming down the Illinois from the great rain of Sept 13-14th, Katherine reports they were able to improve the performance of the raft by removing large amounts of logs and debris from underneath the aft section of the raft that were dragging them.
I received a call from Coast Guard in St. Louis, who were able to contact the Fallacy after I gave them Katherine's number when Steven's didn't have reception. They are interested in re-examining the raft for worthiness. It looks like the original inspection was in the 9th district and the Mississippi is the domain of the 8th district of the USCG.
They plan on spending a few days in St. Louis, if the current allows them a safe dock. Alumni of the Floating Neutrinos and Miss Rockaway? are in town, and they'd like to visit with them.
October 5th, 12PM
Last night they tied up 15 miles above Beardstown along a levee, with a gorgeous farm on the other side. They are hoping to hit Meredosia today, where Katherine's parents are going to meet them to visit.
At noon today they were passing through Beardstown and because of the flooding, the BNSF railroad had to raise their bridge to let the Fallacy through. Normally the clearance is 19ft but the Illinois is making it less than 12ft.
ADDENDUM:
Katherine's parents met M/V Fallacy and crew at Meredosia at 6:00pm. The raft had landed at 2:47pm. The combined party went for a short spin out into the river, during which it was observed that trying to go upstream is becoming unproductive, as the river gathers speed moving south. It is [only] useful when landing/shoring, when the reduced ground/bank speed makes it easier to approach flooded trees, where Steven can jump into the upper trunk, to tie up the motor vessel.
Crew and guests rode six-to-an-Accord to the Approach (bar/restaurant), where they enjoyed a variety of fish, chicken livers/gizzards, onion rings, and Amber Bock. A field trip to the gas station for 15 gallons of Fallacy fuel closed out the formal entertainment.
October 3rd, Evening (Dean)
A couple of updates. They have retired for the night at Duck Island, river mile 135, 26 miles below Peoria. The river now takes them along a 2mph without motor assistance. Steven writes that the stars are beautiful and, with the crescent moon, are the best goodnight ever. They all miss Lui. (Lui decided to disembark at Peoria. I haven't talked with him yet, but I bet he thought the Fallacy was a summer trip, and never believed it would take so gosh darn long to launch. I mean, October?!)
October 2nd, 9PM (Igor)
Steven had fond memories of long ago [REDACTED] in Peoria, and then [REDACTED]. Those memories above all featured the memory of a place called One World Cafe, "somewhere near the university", he said, so as soon as we got here we tried to find this mythical place. Let me tell you, it is as good as Steven's memory made it out to be - so good that this is the third time we come here in as many meals.
Peoria has been good to us. We have showered, and eaten well, and restored our supplies of various provisions (read: outboard lubricant from the nearby Walmart). We had vague plans for attempting to flirt with the sexy co-eds of Bradley, but the habit of falling asleep at 8 pm has proven difficult to shake. It is a wonder I'm still awake even now!
As nice as this city has been, nothing beats the open river. Waking up as the sun crests the trees, the air crisp and cold, the fog rising off the water, the splashes of fish and the crying of morning birds the only sounds - this will all be ours again tomorrow night as we set out on the lower Illinois river. During flooding, the wickets at Peoria and LaGrange? dams are lowered to the bottom, so we will be following the high water line right over the dam tomorrow morning. We are at mile 163 - St. Louis is 30 miles into the Mississippi. We'll do another update when we get there!
Some photos: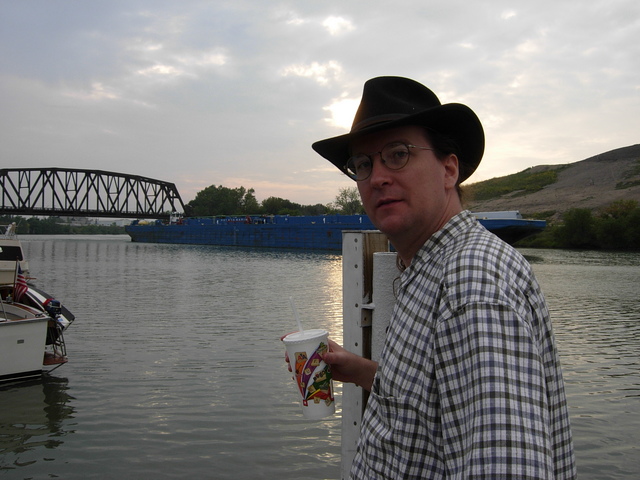 Dean, our faithful narrator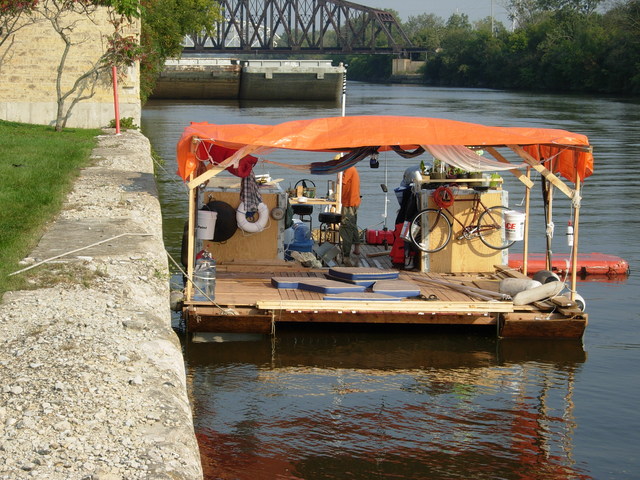 Our first night on the river, tied up near the SEPA at the junction of the Cal-Sag channel and the Chicago S&S canal.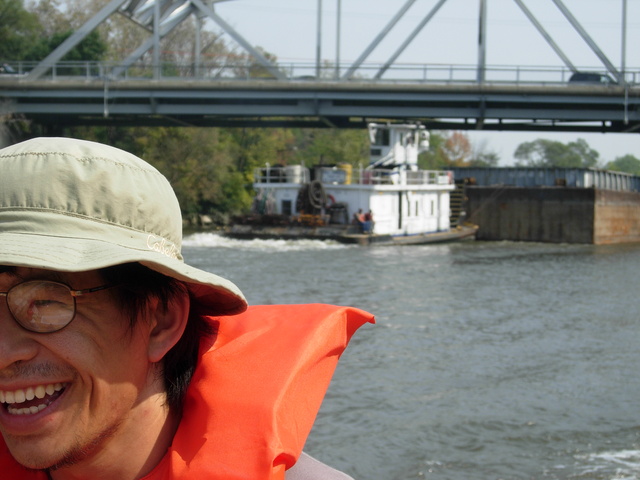 Lui, happy that we passed the barge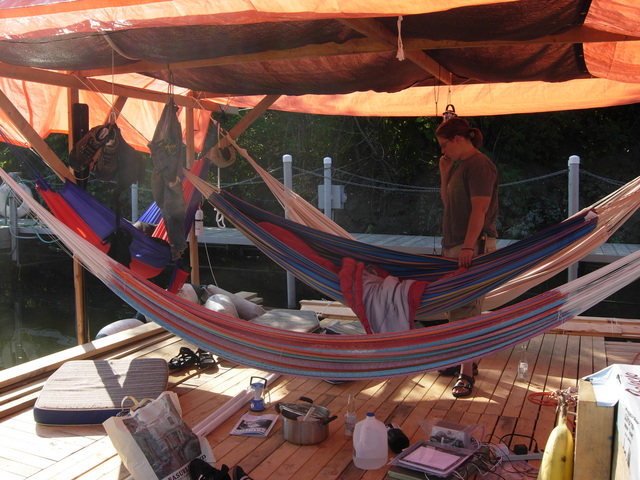 Our sleeping apparatus: hammocks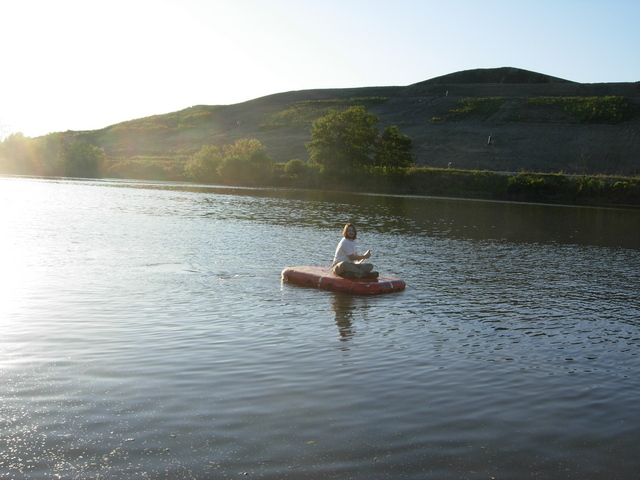 Igor testing out the life raft Reason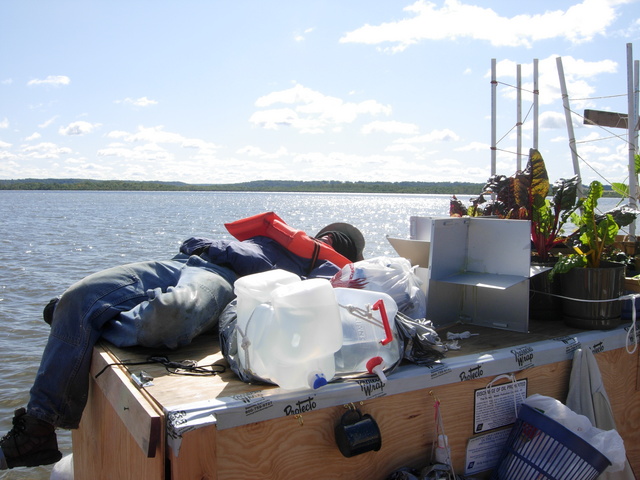 Lui in sleep mode (he's in this mode often; see for instance http://boat.moomers.org/pics/lui%20and%20railroad.jpg )
October 1st, 6PM (Dean)
They arrived safely in Peoria. Per Steven they plan on spending a day or so running errands and "having some fun in the big city". Also they are very happy at having the option of $2 hot showers.
October 1st, 1:30AM (Dean)
Update via Felicia, Lui's mom, who reports Lui actually has a AT&T phone which has service out there:
Tuesday night, 9/30. They are anchored at Lower Henry Island, right after the town of Henry, IL. They had a slightly rough passage through Senachwine Lake today due to the high wind and waves. Lui was the one steering and thought it was fun. But the others thought it was a bit rough and scary (don't know how much was due to his steering!)
By the way, a couple of old news to report. Yesterday morning they were woken up by big gusts of wind and blowing rain. They scrambled out of their hammocks to check around. After they determined that the raft was still intact and there was nothing much to be done but to wait out the storm, they just sat around until the wind died down. When they got going, the morning ride was quite rough with high wind and waves.
Also, the night before that, they anchored off "Goose Poop Island" (near Seneca I think). They used the life raft "Reason" to convey themselves to the little island (no goose poop) to cook their dinner. On their way back to Fallacy, Igor decided to leap to the raft from the life raft and landed in the river. Luckily it was only a couple of feet deep at that point. So they had their first "man over board" moment!
They will try to set off early tomorrow and hope to make it all the way to Peoria. Much of the area they pass is flooded -- the island they are anchored off tonight is mostly under water.
September 30th, 2:47PM (Dean)
No contact since yesterday at 3PM, when Steven said the News Tribune out of
LaSalle
interviewed them about their trip. In a genius bit of planning, all the rafters use T-mobile for their cell phones, and on the coverage map just past the great bend where the Illinois River turns south there appears to be no coverage. They have to get a day or more travel down to Chillicothe, north of Peoria before they can contact us.
That river bend is also a split in the nature of the Illinois. Upstream, the river flows through a channel that clearly is smaller than the tall cliffs of Buffalo Rock suggest--and indeed, several torrents of glacier melt flowed through the upper Illinois during the Ice Age; the lower Illinois below the bend is an old channel of the Mississippi carved when it was blocked upstream by ice.
The News Tribune article: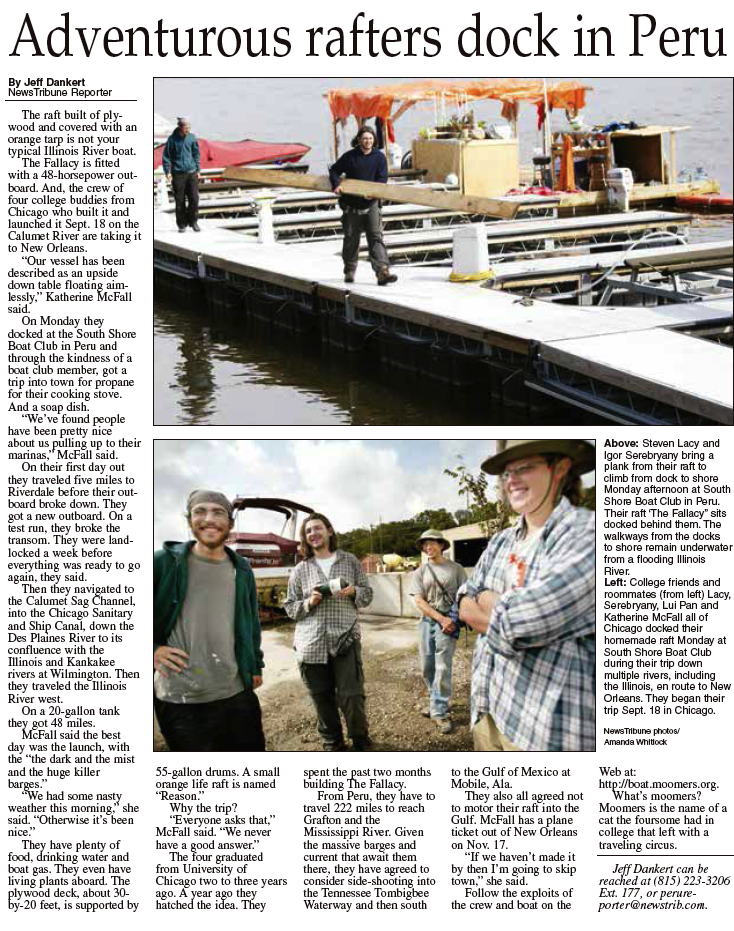 September 28th, 7 p.m.(Steven's mom Suzanne):
Steven called to say they are Anchored off Buffalo Rock State Park just south of Ottawa
Went through the Marseilles Lock (had to wait 4 hours to get through) and are cooking fresh corn on the cob and making salmon patties for dinner.
Here are some pictures from their first launching on September 19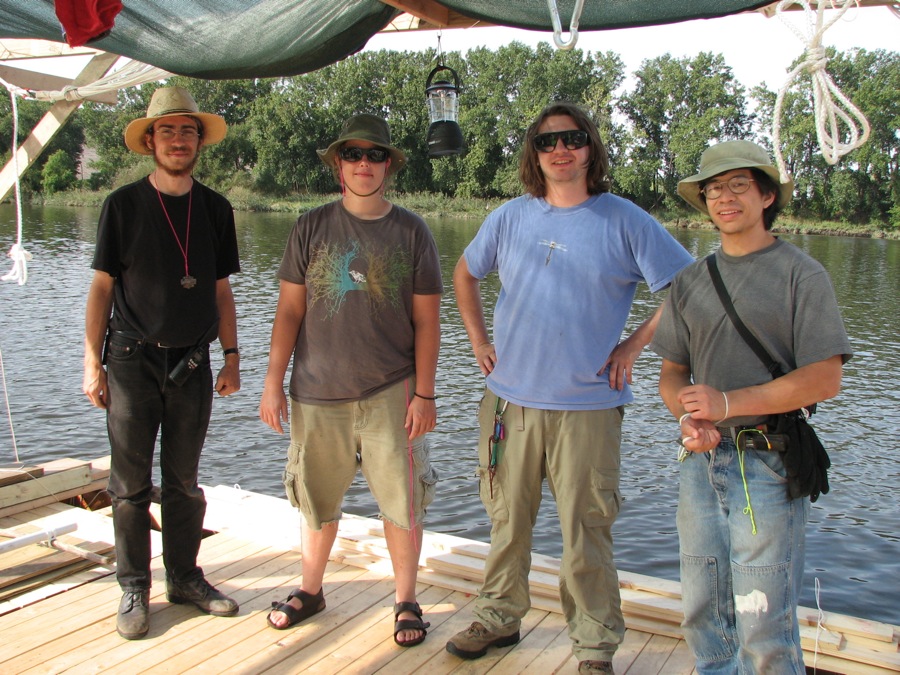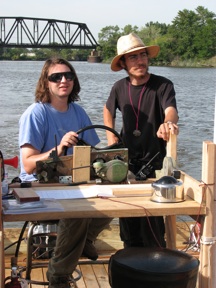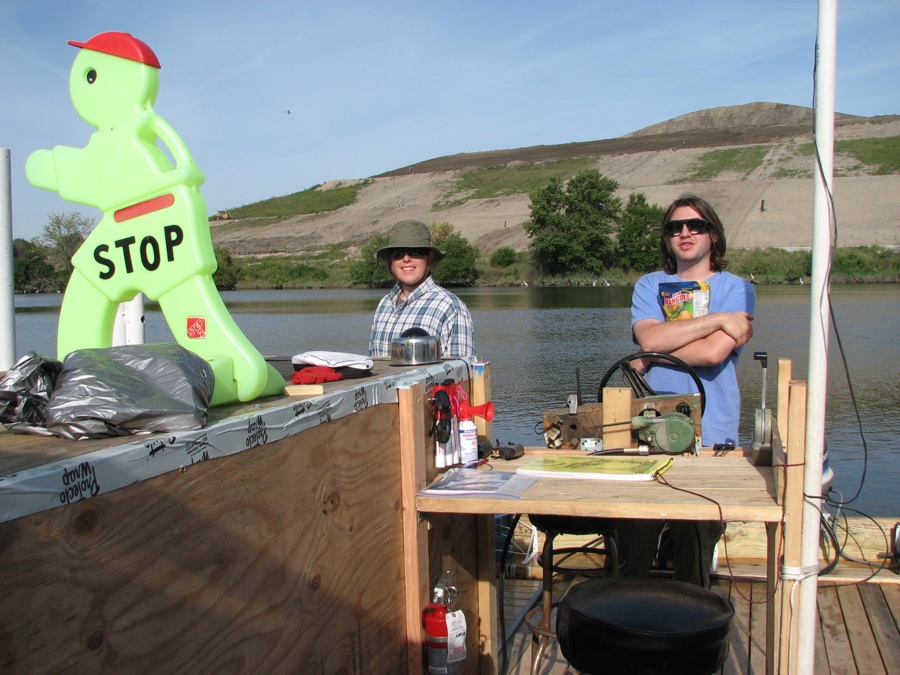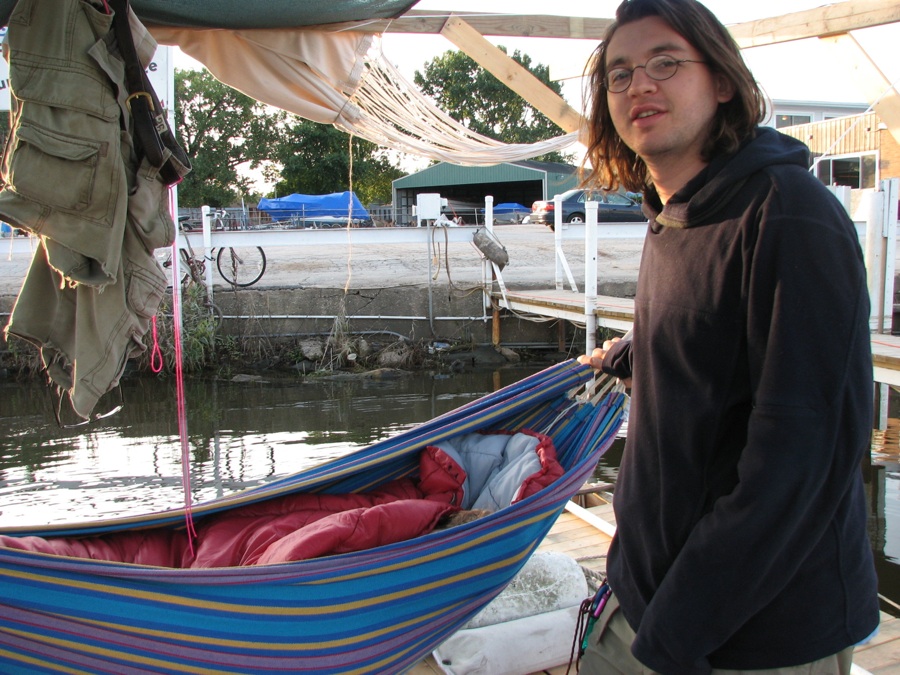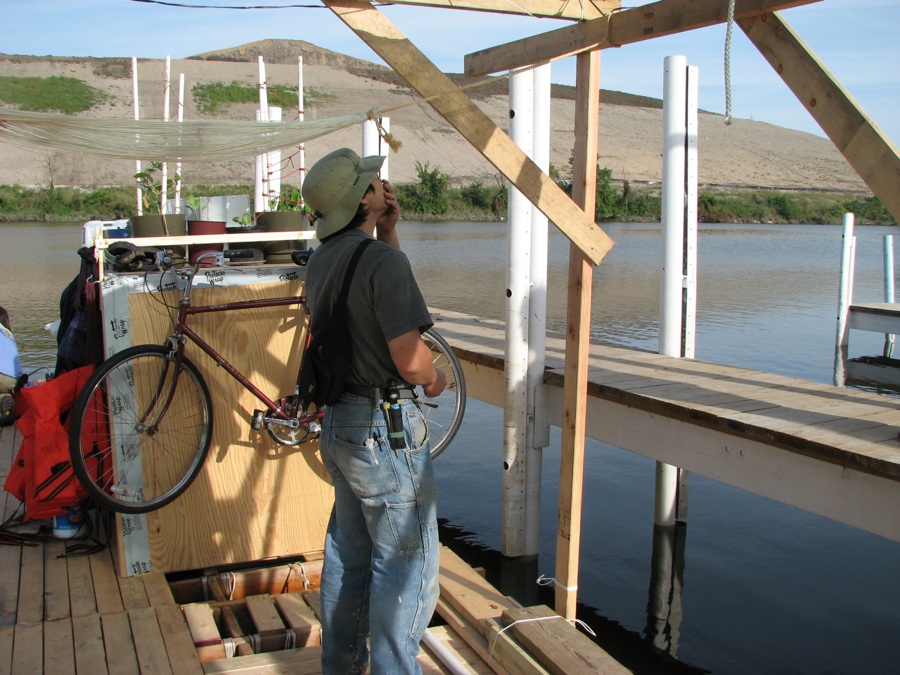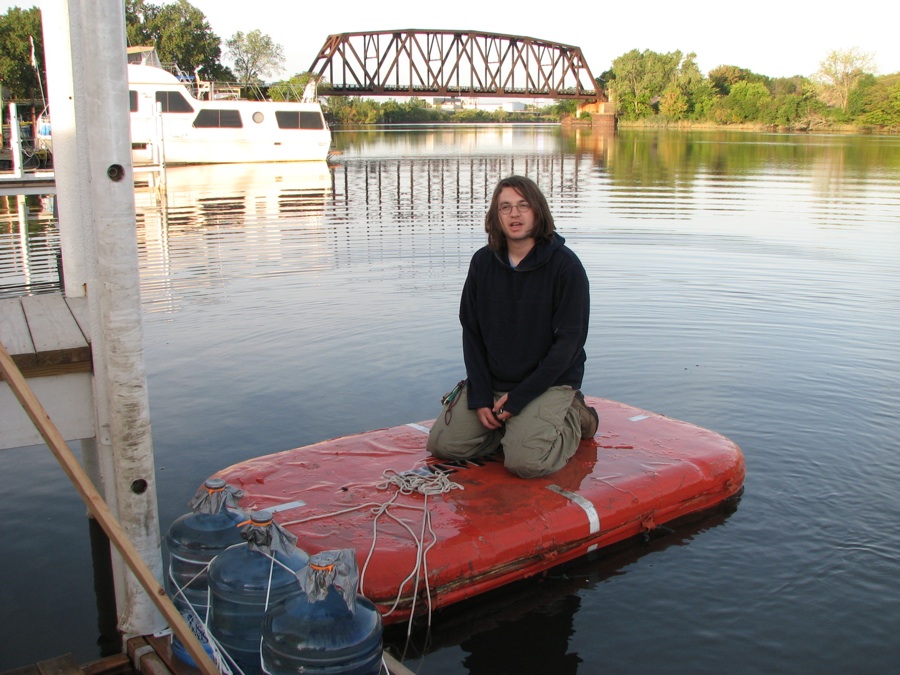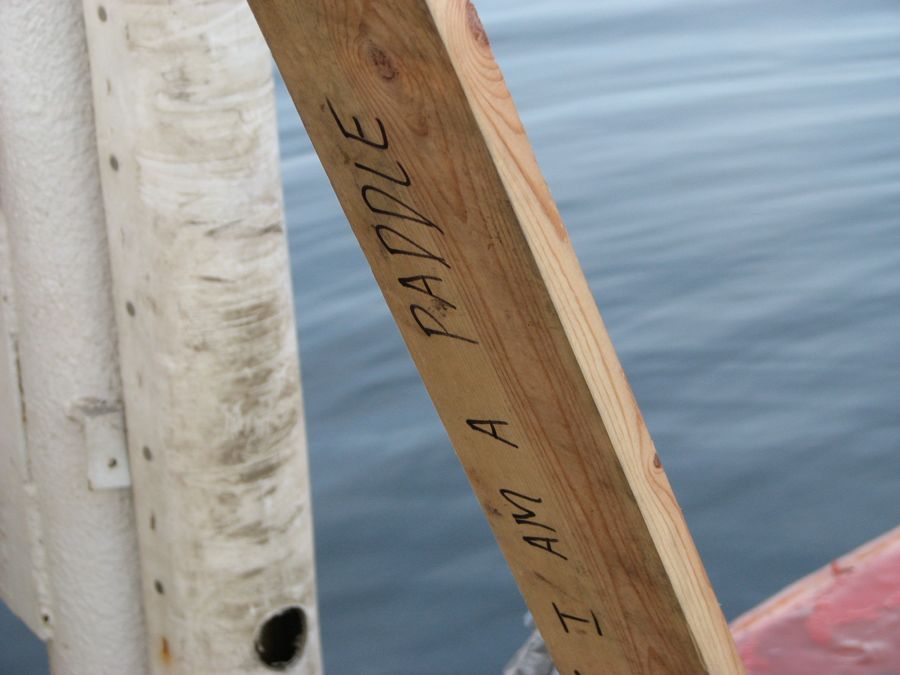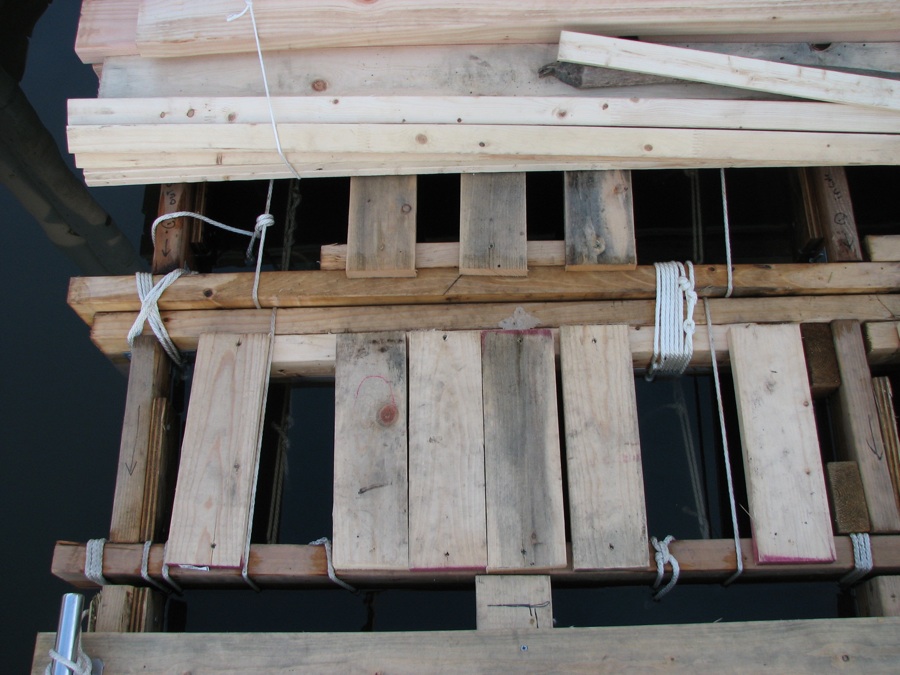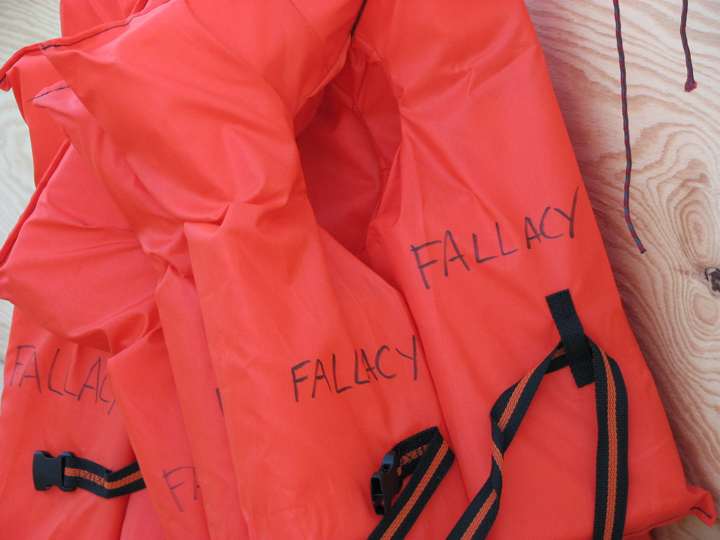 September 27th, 9PM: Overnight
Lui calls to say they are overnighting near Seneca, IL.
September 27th, 1:11PM: Dresden Lock
After a few hour wait for commercial traffic at the lock, they've passed through with a number of other waiting vessels, and are on their way. They had their last visit with the Coast Guard, which has been requesting nightly check-ins to make sure they and their vessel were OK. Steven says the USCG will be following their progress down to New Orleans on this web site. Let's hope for a safe journey and cellular phone coverage on the way!
September 26th, 7PM: Anchored at Mile 275.25
They are anchored off the main river in a side channel at mile marker 275.25, just two miles from where the Kankakee and Des Plaines join to form the Illinois River.
September 26th, 11AM (Dean): Chicago Ship and Sanitary Canal, and first lock.
A call from Steven:
They started their day at 4:30 this morning, to get to the Electric Fish Barrier, which evidently closes at 7AM in the morning for some reason. You can read about the Barrier, which is intended in keeping Asian Carp out of the Great Lakes: http://www.uscg.mil/d9/msuChicago/docs/FishBarrierHandout.pdf --but it can't keep the Fallacy out of the Mississippi!
Further down they traveled past a number of coal power plants, each outputting significant amounts of hot water (Steven says the canal kept steaming in the vicinity of the plants).
They reached downtown Joliet at 11AM and docked to get some gas and some food.
One more lock on the south side of Joliet and they are out of the industrialized channel and into the more civilized Des Plaines River.
They've handled a number of barges, and one barge had a higher than average wake, about two to three feet, that was the biggest wake they've encountered. They said it was very wavy on the raft but it pulled through.
They've been averaging 3-4mph.
http://maps.google.com/maps?f=q&hl=en&geocode=&q=jefferson+st+and+bluff+joliet,+il&sll=41.524869,-88.087134&sspn=0.022234,0.039654&ie=UTF8&t=h&z=16
September 25th, 1PM (Dean): First barge and photos!
They've passed the I-294 and 127th St bridges, and have survived their first barge encounter. Dave D. sent us these fantastic photos from 127th! Talk about action shots! Looks like Lui is at the helm, Igor is handling debris patrol, and Katherine and Steven are lookouts.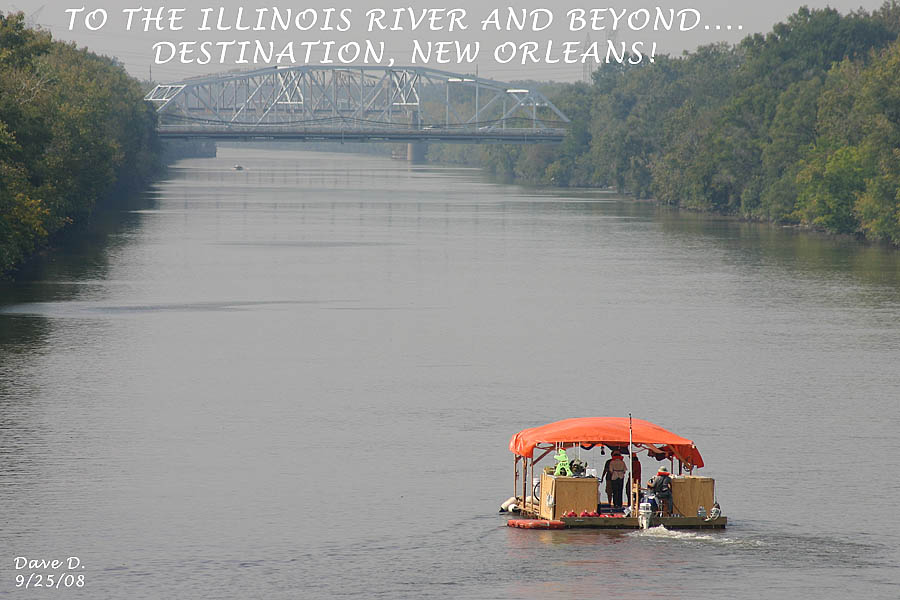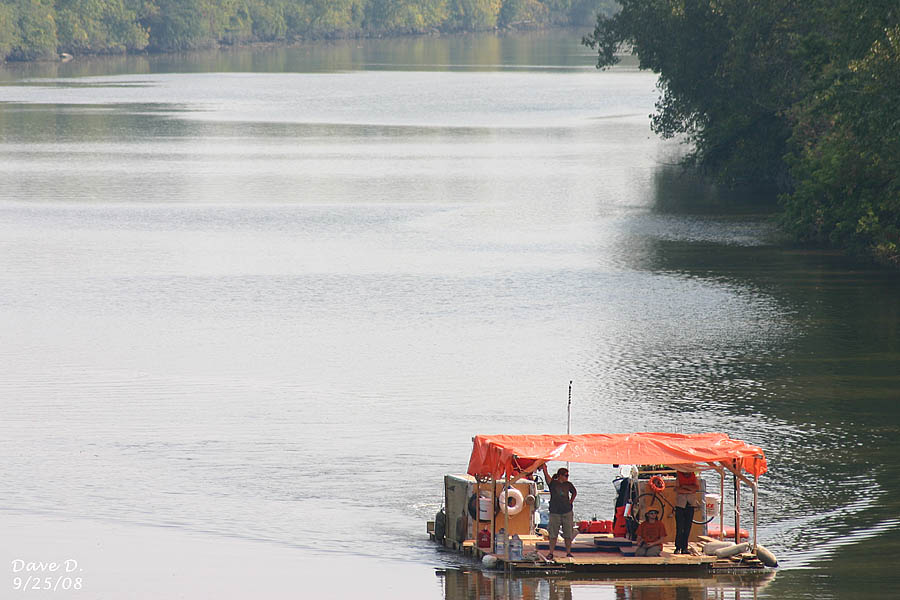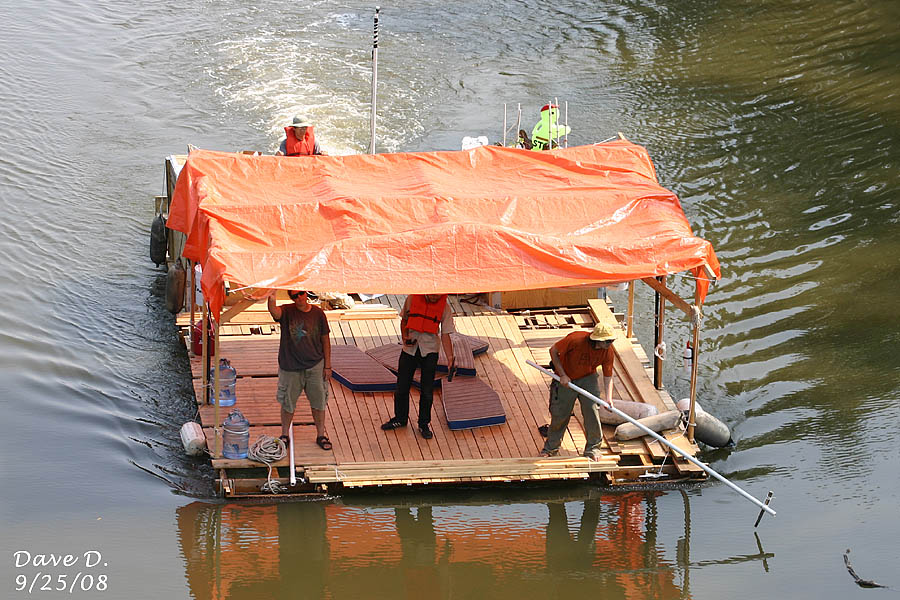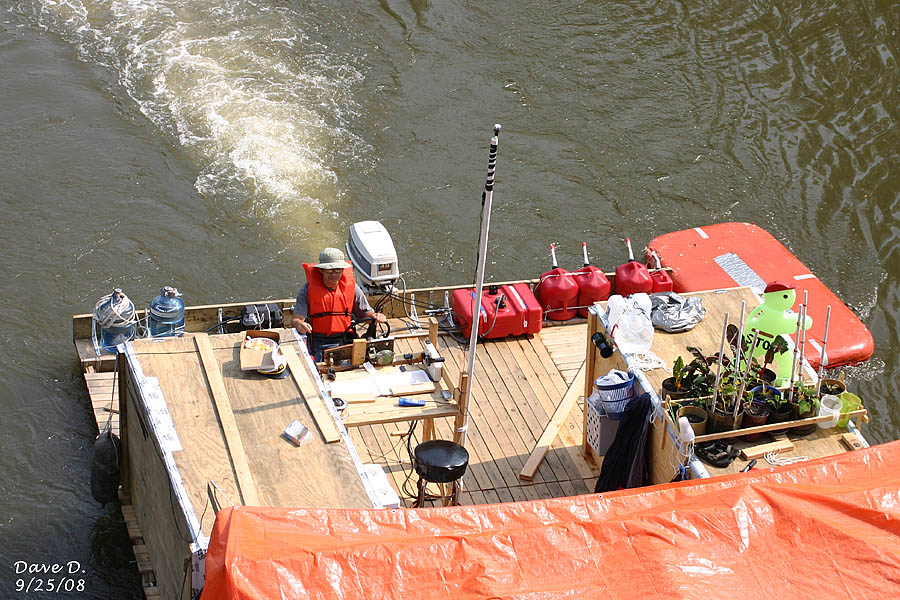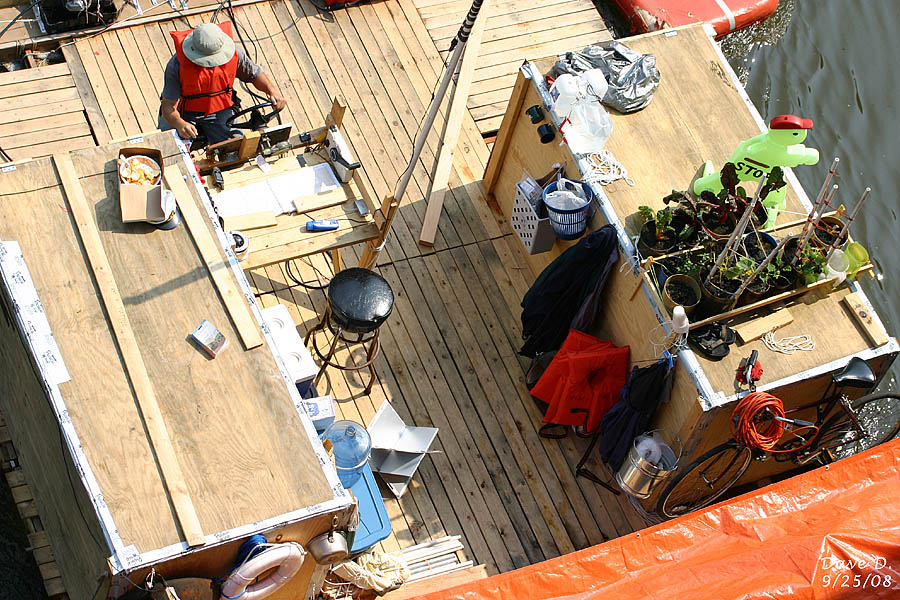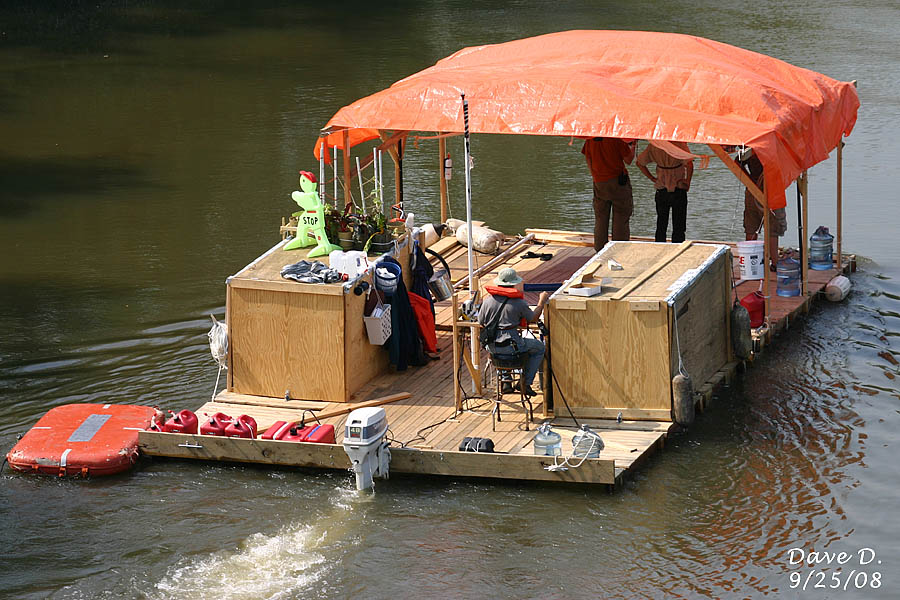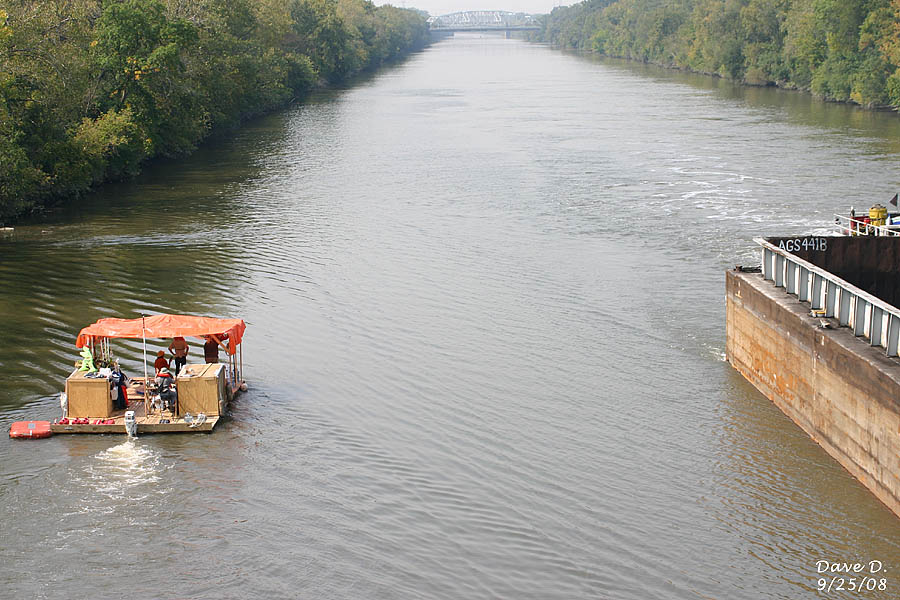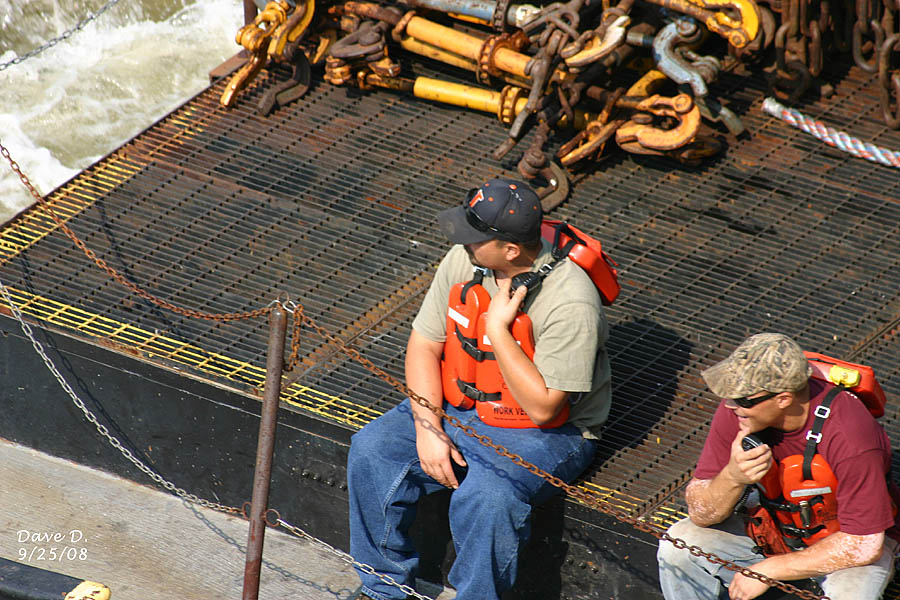 September 25th, 11AM (Dean): Re-launch
Steven (after prodding, despite my instructions FOR CONSTANT UPDATES), indicates they are on their way again!
It's about twelve miles down the Cal-Sag Channel until it reaches the Chicago Ship and Sanitary Canal. I hope they decide to hold up at the end of the Cal-Sag and run the Ship and Sanitary in the morning--there is little on the Canal but vertical walls and heavy barge traffic and few if none places to retire for the night.
Here is a rough map, if you were driving the distance:
http://maps.google.com/maps?f=d&saddr=41.656128,-87.641169&daddr=Grant+Rd&hl=en&geocode=%3BFYhEfAIdBBfC-g&mra=mi&mrsp=0,1&sz=15&sll=41.65406,-87.641759&sspn=0.022189,0.039654&ie=UTF8&ll=41.671373,-87.793121&spn=0.354929,0.63446&t=h&z=11
September 23, 7pm (Steven): Still waiting
After waiting for our motor to dry out (it still runs!), we remembered we had mangled the steering cable to the point where it won't work anymore. We spent the morning calling around and eventually I took a suburban Pace bus for an hour and then walked for two miles to Croissant Marina where they are ordering the part for us, to be delivered tomorrow at noon. We are also going to go out near Midway Airport to get another propeller (ours is bent but ok as a backup), then do a test spin on Wednesday, and set off for real on Thursday if all goes well.
September 21, 10pm (Steven): More Trouble
After finally getting our new outboard to work (the final step was realizing the emergency kill switch was out) and re-enforcing the transom, we took the Fallacy out for a spin. Just as we got to the point where the Little Calumet splits off from the Cal-Sag Channel, I hear a cracking noise and turned around to discover that the transom had fallen into the river! Boy am I glad we tethered the motor with some strong rope. We tied up right away and with the help of some friendly passing boaters got the 150-lb engine plus 16-foot board up onto the raft and made it back to our slip. In the confusion, we let our life raft go and, again with the kindness of some passing boaters, retrieved it. We set the motor up to dry, and will be making some hardware store runs to re-enforce the transom, for real this time. Hopefully, we will be able to take her for a successful test spin tomorrow, and then take on the Cal-Sag Channel on Tuesday.
September 20, 5PM (Dean): Update: Still at Riverdale Marina
The raft team spent the day at Riverdale tracking down a new motor as they don't trust their original engine. They've got it though, but it takes a little time to mount it.
September 19, 3:34PM (Dean): Update: at Riverdale Marina
Steven writes to say they experienced some engine trouble at have docked at Riverdale Marina (130th & Halsted) to fix.
September 19, 10:57AM (Dean): The Fallacy has left!
Landlubber Dean here, reporting in. The Fallacy has launched and started her journey this morning at 10:39!
Yesterday, Katherine reported the Coast Guard came by at noon and gave a very friendly and useful inspection for a few hours, checking the raft out fully. One test was putting everyone on one corner and then attempting to break the raft from the other corner; the raft passed the test. The Coast Guard had a few things they wanted fixed on the Fallacy with regards to having unstrapped fuel cans onboard and the 12V electrical wiring not stapled down everywhere.
On Wednesday while helping out we took Lui's family out for a spin on the raft and went down the River about a mile. It steers beautifully. At a maximum speed of 3.3mph they will be on the Little Calumet River and Cal-Sag Channel all day (and the next day is the Chicago Ship and Sanitary Canal, the toughest part of the Chicago waterways, so they need a full day for that). If they run at full speed and left at 10:30, they'll be roughly at the Metra Electric bridge at 11:30, the I-57 bridge at 12:30, and Blue Island an hour after that.
September 18, 1:00 am (Steven):
Almost ready to go. Today we constructed a superstructure on the front half of the raft (it holds tarps and hammocks), re-enforced and waterproofed the cabins, and fiddled with the motor a whole bunch until we could get it to shift into gear properly, though we're not entirely sure what exactly was wrong with it to begin with.
The one remaining task to do before leaving is to figure out some alternate means of propulsion should our motor fail (it's in good shape, but two months of constant use means it will likely fail at least once before we are through with it). We are hoping that some paddles we are going to buy at Cabelas in the morning will allow us to navigate to shore, but if that fails we might be in the market for a backup outboard, which could set us back financially and in terms of time.
If all goes well, we may cast off as early as noon tomorrow (Thursday).
Some pictures of what the raft looks like now: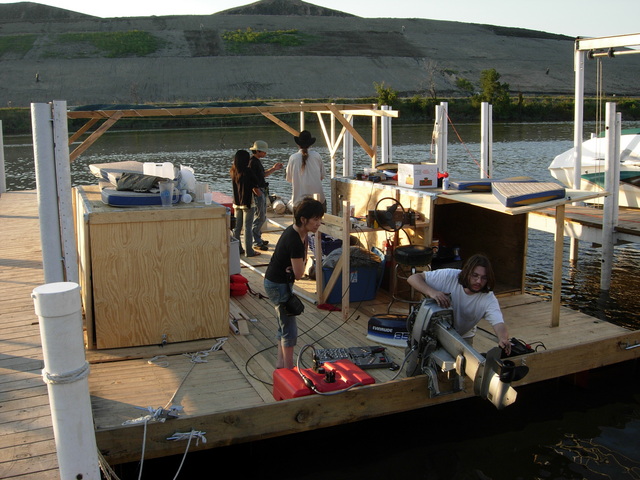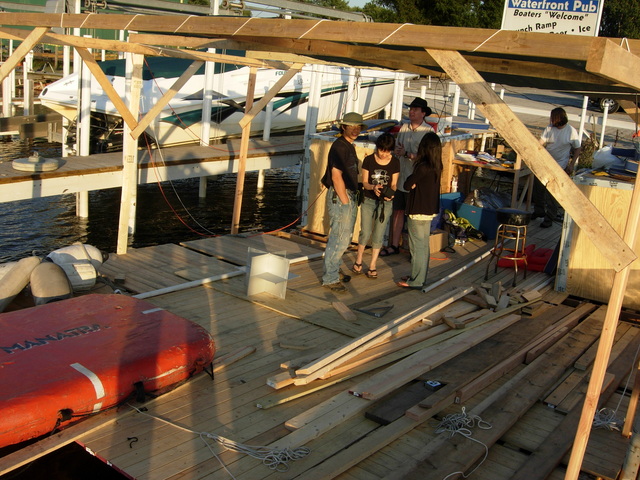 It's 1:00am, I'm getting up at 5:00am, I'm already short on sleep, and I need to pack everything I will need for two months into a small box.
September 16th 10pm (igor):
We also managed to leave our keys in the ignition. Way to go, us!
For the more technically inclined (read: others using our website to build a boat): Our problems with reverse gear had to do with a loose linkage between the shifter and the lower unit. If you are looking at your outboard, there should be a little patch somewhere on the shaft between the lower unit and the main body. Inside that patch, usually held on with two screws, is the linkage bolts, which I tightened to fix our problem
More importantly - the first thing I did to fix it was wander onto shore. There, an old salt(fresh?) named Jean told me instantly how to fix the problem when I described it to him. USE THE KNOWLEDGE OF THE PEOPLE AROUND YOU!
September 16th 9pm (Steven): It's a boat!
In the last few days we built two 4'x8' cabins to our raft (4' tall), attached side keels, built a helm (with steering wheel, shifter, and charts table), and attached and trouble-shot the motor. Now, everything works and we took her for a spin! The Fallacy made it down river, up river, and back into our slip without a hitch. After donning our life jackets for the first time, Igor manipulated the shifting and throttle by hand (our cables for those aren't quite done) while I steered the boat, calling out throttle instructions. Others poled us out of the slip (we were having some trouble with the reverse gear which we later fixed) and kept a lookout for debris and large boats. It's hard to estimate speed, but we are guessing about 5mph.
Left to do before we leave:
* add shifter cables
* waterproof cabins
* register our watercraft with the Illinois Department of Natural Resources
* build hammock/tarp superstructure on front section
* attach and wire navigation lights
* assemble our clothing, food, water, fuel, and other supplies
* some other stuff scrawled in Katherine's notebook.
We plan to leave Thursday morning. We'll see if we make it.
September 14th 2 am (igor): Weathorr strikes again.
After thoroughly enjoying a roller derby game, I took some friends to see Fallacy at Waterfront Pub. We had some difficulty getting there as 94 was mildly flooded, but we arrived safely and drove through the puddles in the gravel driveway of the Croissant. When we pulled into the parking lot which as been our home for the past few days, I failed at first to recognize the place. There was lumber all over, no boat was where it should be... the very river was out of place.
It quickly became apparent that the Calumet River had overflowed. The parking lot was the new shore. The piers were recognizable only by two rows of poles rising together out of the water. The ramp was no longer there. In the slip where the Fallacy had been parked the day before were two strange boats.
I freaked out for a moment, until Max noticed a raft parked behind now-empty boat lifts. A brief conversation with Todd at the pub revealed what had happened. As the river rose, it became a concern that the two boats suspended in the lifts would hit the I-beams of the lift structure. Todd and some other people lowered the boats and parked them in our slip, and put Fallacy behind the lifts instead. They assured me that she was tied up 'real good', but we're going to check on things tomorrow morning in the rain anyway.
The current forecast has the river rising another 8 inches, cresting at 17.9 feet tomorrow around 1 pm and then falling off to below flood stage Monday morning. A three foot drop in water level would re-expose the piers, allowing us to bring items aboard the raft again. This might actually work in our favor - if the raft is at pier level, it is much easier to bring our outboard aboard! However, if the river doesn't drop significantly Monday, we could be further delayed. Stay tuned!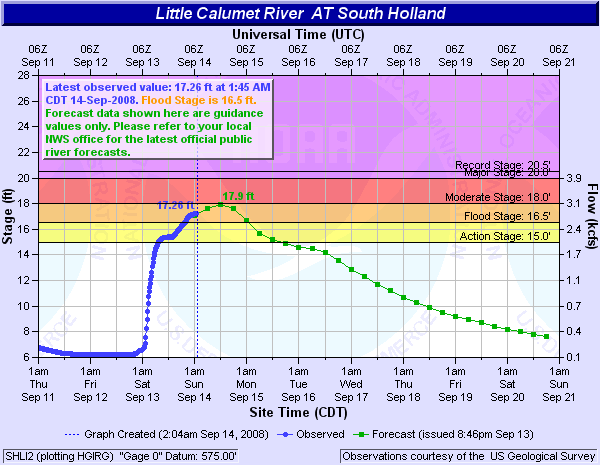 September 13th: (igor):
I sit here at Chez Velvet, my muscles sore from the past three days exhaustive labor. Weathorr has struck again, putting a halt to our construction activities for today and tomorrow - it looks like departure will be postp0wn3d until Wednesday, and that if all goes well.
We have had a few incredibly awesome and productive days, though. Our main crisis, of insufficient buoyancy, seems to have been overcome thanks to our herculean efforts yesterday. We have a pretty good idea of how we're going to construct our cabins and hammock superstructure, our transom is up and feels sturdy, and the two sections are securely lashed together now - all four of us can stand at one end now without lifting the other end out of the water.
These few days have not been easy, however. If we had to do it all over again as of today, here are the main things we would do differently:
Build around our launching spot - we built the raft first, and found a place to launch it later. This resulted in us having a 16' wide raft that had to fit down a 15' wide ramp. This made construction really difficult, and it made making changes to the design (like adding barrels) incredibly difficult, since we couldn't easily pull the raft out of the water.
Use more floatation - if we had 1000 barrels under the raft instead of the 14 we have now, we would float about 11' higher in the water, giving us a larger wind profile and possibly increasing our drag slightly. If we had 8 barrels, the deck would be swamped with all four of us on board. We are barely squeezing by right now, and that at the expense of a day spent shoving just two more barrels that don't want to go underwater under a thousand-pound raft that doesn't want to come out of it.
Make friends early, and often. We had gathered from fellow rafters like the Miss Rockaway Armada and the Floating Neutrinos that people enjoy crazy projects and often want to help out. We didn't realize to what extent this would be true. In the days we've spent hanging around the Waterfront Pub and Croissant Marina, we've gotten for free or nearly free:

fucktons of fenders
two emergency rescue boats (we'll probably bring one of them)
a bunch of cleats
some books on boating
parts for our engine and advice from an engine mechanic
storage space of our expensive bits
shots of jameson from a friendly bartender
tons of advice from people who know what they're doing
We could probably have avoided buying pfds or even nav lights, we could probably have gotten more advice before we started, we could probably have gotten tons of scrap lumber... People want to help. If we hadn't spent all our time in the back yard building or at Menards shopping, but had spent just a little bit of it talking to people who could help, we would probably be in better shape now.
September 12th:
We slept in until 7, convened at Moomers, and talked a bit, but were too stupid to figure much out. Igor made eggs for all, KPM imbibed coffee, and KPM and slucy napped. Then we were somewhat smarter. We epoxied shut the bungs of the two spare barrels and hung around while they cured, then loaded up and went south around 11:30.
By dint of much swearing, kicking, and evocative levering, we got the two spare barrels under the pontoons of the aft section and secured them in place. That section rides majestically high in the water with eight barrels instead of six. We also got all of the deck laid (or re-laid) except for the "engine room" bit in front of the transom between the pontoons, and we lashed the two sections tightly together so they move as one.
We drank some beer, played "Badlands" on the jukebox, and made friends with the bartendresses at the Waterfront Pub.
The raft looks great. It is flat and gorgeous. We can all stand on any spot without breaking or submerging anything. It is going to rain really hard for two days, so we're going to sleep and plan. When it clears up, we will finish building and get going.
Pictures from today:
http://boat.moomers.org/pics/00%20dean.jpg
http://boat.moomers.org/pics/01%20port%20pontoons.jpg
http://boat.moomers.org/pics/02%20steven%20fore.jpg
http://boat.moomers.org/pics/03%20push%20steven%20push.jpg
http://boat.moomers.org/pics/06%20lui%20igor%20steven.jpg
http://boat.moomers.org/pics/10%20igor%20lui%20steven.jpg
http://boat.moomers.org/pics/11%20lui%20catches%20rope.jpg
September 11th:
We got up before dawn, dropped off the U-Haul's dolly, acquired life-giving coffee for KPM, and arrived at the Waterfront Pub around 7:30. We brought the existing section and the other two pontoons into our slip, assembled the second section, finished laying the deck except for the middle of the rear section, built the transom, and then realized that we don't have enough flotation. With the four of us on a section, the bottoms of our pontoon 2x12s are only an inch above the water, and that's without motor, cabins, superstructure, food, water, gasoline, and books.
We came up with a bunch of outrageous ideas including:
1. do nothing
2. add barrels, either:
2a. by drilling new holes and laying new pipe in the center thirds of each pontoon, or
2b. by just shoving two barrels under the center third of each pontoon any which way
3. add plywood boxes of pink foam underneath the pontoons
4. sacrifice the front section and incorporate its pontoons into the rear section, either:
4a. with an 8'-square nose sticking out the front, or
4b. as one big dumb square with three or four pontoons underneath
5. buttered cat antigravity device: http://upload.wikimedia.org/wikipedia/commons/thumb/2/20/Buttered_cat.png/180px-Buttered_cat.png (Clarice volunteered)
We discussed at great length the various advantages and disadvantages of each option, and now (the morning of the 12th) it looks like we're going to try a rigorous variant of 2b and see how it goes.
September 10th:
Amazing day! KPM and Lui started it at 8:30, doing our final Menards run for the rest of the decking and large quantities of rope (although not large enough). We picked up the uHaul as scheduled at noon, and after loading it up, arrived at Croissant around 2:30.
We didn't really have a very good plan for getting a 16' wide raft down a 15' wide launch ramp. Igor had some vague idea of lifting up one side, but the launch walls gets higher as they get closer to the water, so we would have had to have one side 8 feet up in the air. In the end, we used Sam PH's idea of using the pier as our working surface, as seen here: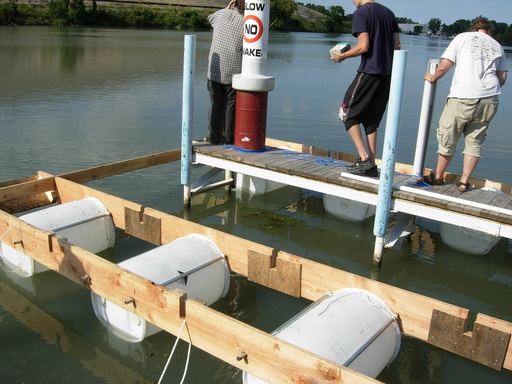 We would get a cross-piece in and then move the raft to where we could get the next one in. We screwed in the deck supports for proper spacing and just left the 2x6 supports hang out. Later, we maneuvered the raft to where we could reach the 2x6s for the lashing. We walked out over the precarious non-decked raft to lash the places we couldn't reach off the pier.
We ended up with the front section mostly done in the water. It is still missing all the decking in the middle and the bumper in the back. We will use this section to construct the second section tomorrow.
More photos:
http://boat.moomers.org/pics/raft%20in%20truck.jpg
http://boat.moomers.org/pics/assembly.jpg
http://boat.moomers.org/pics/assembly2.jpg
http://boat.moomers.org/pics/in%20the%20water.jpg
http://boat.moomers.org/pics/igor%20cord%20raft.jpg
http://boat.moomers.org/pics/raft%20on%20water.jpg
September 9:
Today we finished widening and reinforcing the notches, and Lui tightened the barrel lashing. Later, we are going to enhance our plywood supplies.
Sep 6:
We had a rough day today. Slucy, Lui and Igor talked about all the ways in which the raft could fail and how we would deal with those failures for about 3 hours. A conversation like that tends to put a damper on things, especially since we were having it LONG LONG after all the major design decisions had been made.
Well, live and learn. After much agonizing, we have decided that our design is basically sound, as long as we widen the crosspiece notches to accommodate swelling and reinforce them with plywood to accommodate the shifting surface that is the Mississippi. We proceeded to redo a lot of the work we did on some of our first build days, re-cutting the crosspiece notches to make them .5" wider and cutting up some of the plywood reserved for our cabins to make reinforcements. We didn't finish, of course - this looks like a job for Monday and Tuesday.
Sep 5:
We have some place to put Fallacy! Croissant Marina has a slip for our first few nights, and Monroe Harbor has cans for the taking at $24/night. We will probably get to spend a night or two in the most beautiful harbor in the city! With this information, the Wednesday launch date is confirmed.
Sep 2:
I swung by the DNR today and picked up our registration application. According to the DNR website, they have a huge backlog of registrations to process - we might have had our hull numbers if we had sent in the application in June. No matter - the second page of the application can be used as a temporary registration for 120 days.
Aug 30-1:
We had a pretty long agenda for this weekend:
http://mailman.moomers.org/pipermail/boat/2008-August/000235.html
But we pulled it off! We put together both of the raft sections with all the works. We have all the pontoon decking. We have raked the front pontoons for better wave jumping. We ran our motor and it worked great! We epoxied most of our barrels, with the exception of the ones we can't get open :). We are FUCKING SET!
We also went to West marine and got our anchor, navigation lights and PFDs. We have been using our marine radios and learning the lingo - they have great battery life!
week of 25-31:
we have fewer tasks by day now, since we have fewer shopping trips coming up. we still need to go to west marine for the anchor and head.
construction tasks for the week:
figure out and cut anti-parallelogramming pieces.

finish decking for pontoons

create additional planter and fill it with plants

deal with registration et. al.

call bridge stuff (slucy)
Aug 24:
igor and kpm had plans for the day, but they ended with us sunburned and exhausted after jet-skiing all afternoon. nothing was accomplished except AWESOME.
Aug 23:
Way to go - our pontoons are all done! One of them is even all decked out...with some decking... yeah. photos coming tomorrow.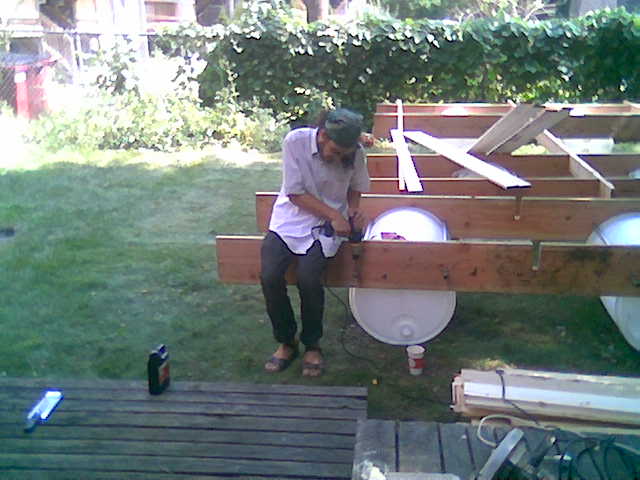 we also changed our design yet again. we will now have bumpers! hooray!
Igor and slucy walked a 16' long piece of lumber down from moomers to 57th street beach, and we will definitely fit. the tightest spot was between some bushes right past 57th street underpass. it would be a long and difficult journey, but afterwards we could be in the lake instead of a smelly river.
Aug 22:
(morning) Igor picked up the last 4 barrels, and a fire extinguisher with a waterproof tyvek tag. they don't have any more barrels with lips at ChemEx?.
(afternoon) trip to menards for:
(16) 2x4 joist hangers for deck support
(8) 2x4 10' for deck support in the centers
(50 or just get a box) angle brackets (AP and 2x6 attachment)
(4) 2x4 16' to support deck over pontoons
(96) 1x4 8' for the deck over the pontoons (to be cut in half)
(1) New drill to replace the one we KILLED
(igor and kpm)
Aug 21:
Trip to Skyway Yacth Works, (773 734 7777) (9864 S. Avenue N) to talk to Bob about possible launch site (igor & steven). Bob stood us up, but he directed us to croissant yacht yard, where we found at the very least a backup launch site. more info in the emails, here: http://mailman.moomers.org/pipermail/boat/2008-August/000201.html
Aug 17:
Morning: Igor went to west marine. they were pretty sold out because of the air/water show, but Igor got a 75 amp-hour battery, gas tank, and oil.
Afternoon: We built an entire raft section and half-built the last two pontoons, wearing out my drill and two metal-drilling bits in the process. Way to go! We're like, half way there.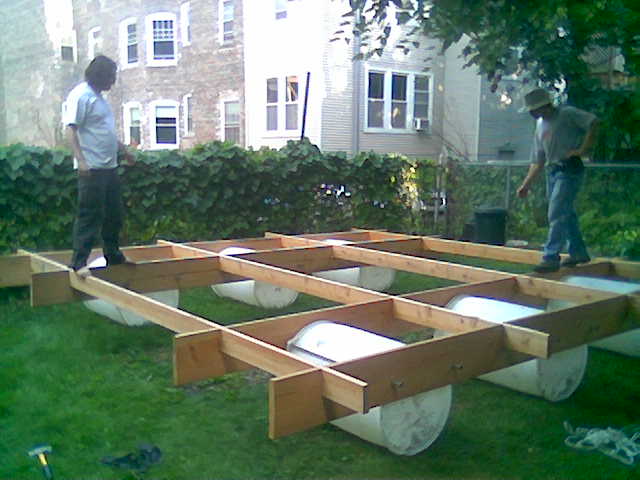 and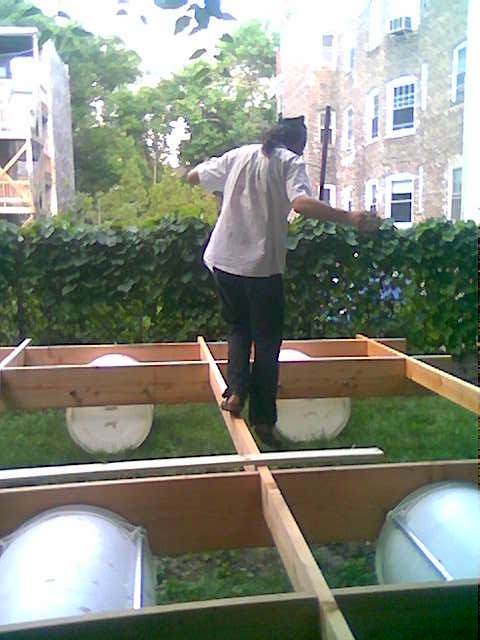 Aug 16:
Igor checked out a bunch of possible launch sites. The place north of river city is 4 feet off the water. The bay in the brownlands is really rough and about 8 feet to 3 feet off the water depending. The 'staircase' in the brownlands, closer to the bridge, is a possible spot - we could probably assemble the entire section and carry it into the water assembled there, to avoid floundering in the Chicago river. Pics coming soon.
Aug 15:
Slucy exchanged our lipless barrels for lipfull ones at chemex - we will need another trip to get teh rest.
Aug 14:
We bought the 3/4" pipe segments pre-cut from Home Despot, along with retainer bolts (5/16") and nuts, a 1 1/8" spade bit and a 5/16 metal drilling bit. We also bought 12' of 1x4 fro teh testing - kpm danced on it briefly at the store and found it sturdy enough.
Aug 12:
Trip to chemex for 5 barrels (igor and lui, 9 am) -- Igor went by himself, but it looks like the barrels we got are missing the lower lip. we might need to exchange them. I also bought another spool of barrel rope, a tool for measuring and marking angles for the anti-parallelogram 2x4s and 4 angle brackets rated for 500lb for the transom.
Aug 11:
Call chemex and order 10 more barrels ($200) (igor)
4'x8' retrieval (evening, igor & kpm) -- we got two more 3/4" sheets, and two 1/2" sheets. we should be good to go on cabin stuff, minus doors. two more sheets of 1/2" or even 1/4" wouldn't go amiss...
ordered batteries/charger (igor, 71.61)
Aug 10:
WE HAVE BUILT OUR FIRST PONTOON! only three more to go! We also changed the lower unit oil on the engine and serviced the spark plugs, figured out where to get water for running the ear muffs, and failed to decide where to launch. Also, the exact knots we are using to tie the barrels to the pontoon remain undecided. Schedule for next week is finalized - the goal is to have all four pontoons built next Sunday.
Aug 7: bought lower unit oil, oil pump and "ear muffs" for engine - $30
Aug 3:
The engine has been hung in the Moomers back yard, waiting tuneup. We have finalized the engine mounting plan, using angle brackets and a 2x8 in the last notch. We have also decided to use 1x4s for the decking with additional 2x4 supports. The cost per 8' 1x4 is 1.49 at Menards, and makes us lighter.
We also decided that our previous weight numbers (http://mailman.moomers.org/pipermail/boat/2008-July/000129.html) will be our upper bound, and given our barrel mounting strategy we will be at 71% capacity before the main 2x12s touch the water.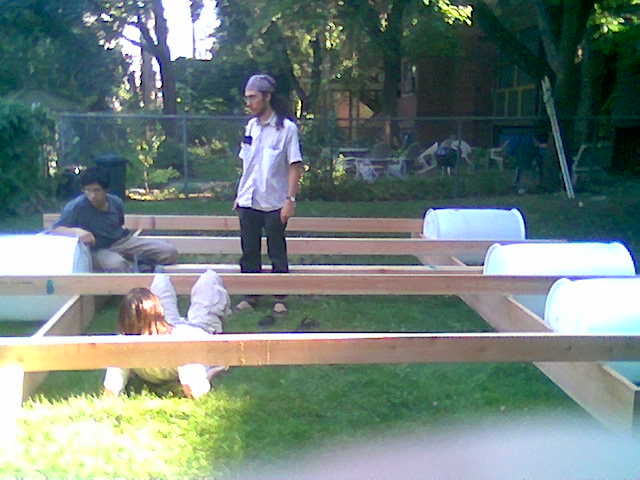 Jul 27:
We have finalized the design of the main structure, including perpendicular barrel positioning and pipes to hold the barrels down.
Jul 20:
We have finalized the raft shape and size, agreeing on 2 16'x16' sections instead of 4 16'x8' sections. We come up with the notch idea for perpendicular support and anti-parallelogramming (wtf?) 2x4s
thank you to all the alumni of the Miss Rockaway Armada (http://www.missrockaway.org/ ) who have visited the site in the past few days and who have answered our numerous questions. Jon and A'yen have been incredibly helpful.
all links are in the MainMenu?